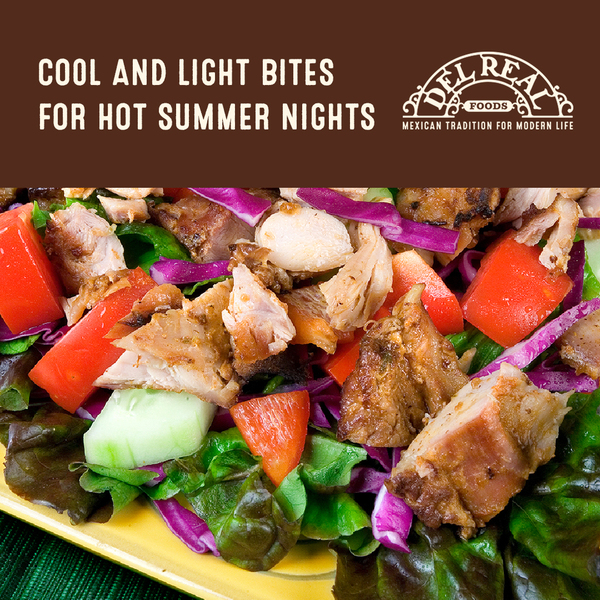 With summer in full-swing, there's no better time to break out the lawn chairs, put your favorite beverages on ice, and enjoy the outdoors. Nothing ties a summer gathering together quite like some delicious Mexican food.
Here are a few recipes we've created using Del Real Foods products that are a perfect match for those warm summer nights.
Pollo Asado Salad
Whether the main dish or a trusty side, salads are a healthy addition to summer spread. Del Real Foods' Pollo Asado kicks your basic salad up several notches, infusing it with rich, smokey flavor. Modeled after a traditional recipe, our Pollo Asado is packed with plenty of spices and a zesty citrus blend. Mix it with some crunchy veggies and you'll have a salad no one will want to pass up.
Ingredients:
1 package Del Real Foods® Pollo Asado

1 head of romaine lettuce, shredded

½ purple cabbage, shredded

2 medium ripe tomatoes, diced

1 large cucumber, chopped
Check out the complete recipe here: https://buy.delrealfoods.com/recipes/pollo-asado-salad/
7-Layer Tostada
The 7-layer tostada is always a crowd-pleaser, but we're ready to take it to a whole new level. On top of some of the classic additions like tomatoes, sour cream, and avocado, the true star of our 7-Layer Tostada is Del Real Foods Chile Verde (fried pork in green sauce). Chile Verde brings the flavor and spice you can only get with a recipe passed down through generations. Keep things rolling with our Salsa de Molcajete Verde and Refried Beans to create the ultimate centerpiece dish.
Ingredients:
15oz. package Del Real Foods® Pork Chile Verde

Del Real Foods® Refried Beans

2 avocados

1 lb. sour cream

1 oz. grated cheddar cheese

15 oz. Del Real Foods® Salsa de Molcajete Verde

2 tomatoes, diced

8 corn tortillas

salt and pepper, to taste

16 oz. canola oil
Recipe: https://buy.delrealfoods.com/recipes/7-layer-tostada/
Black Bean Mango Chicken Salad
When the weather starts to get warmer, you want a combination of hot and cool food as part of your party platter. This salad is a perfect match for a cool snack with plenty of flavor, once again featuring Del Real Foods Pollo Asado. Toss in black beans and jalapeño peppers, and you have a unique spin on a classic dish.
Ingredients:
1 package Del Real Foods® Pollo Asado

2 cans black beans, drained

1 ½ cans fruit mango in light syrup

3 sweet red peppers, diced

2 jalapeño peppers, diced

½ medium red onion, diced

1 bunch cilantro leaves, chopped

2 tbs. lime juice

1 tbs. cumin seed, ground

1 ¼ tbs. oil (corn, canola or olive)
Check out the complete recipe here: https://buy.delrealfoods.com/recipes/black-bean-mango-chicken-salad/
Tantalized by some of these recipes and want to add them to your next summertime party or get-together? You can't start without the authentic Mexican snacks and meals from Del Real Foods. Use our store locator here to search for these products at a location near you!