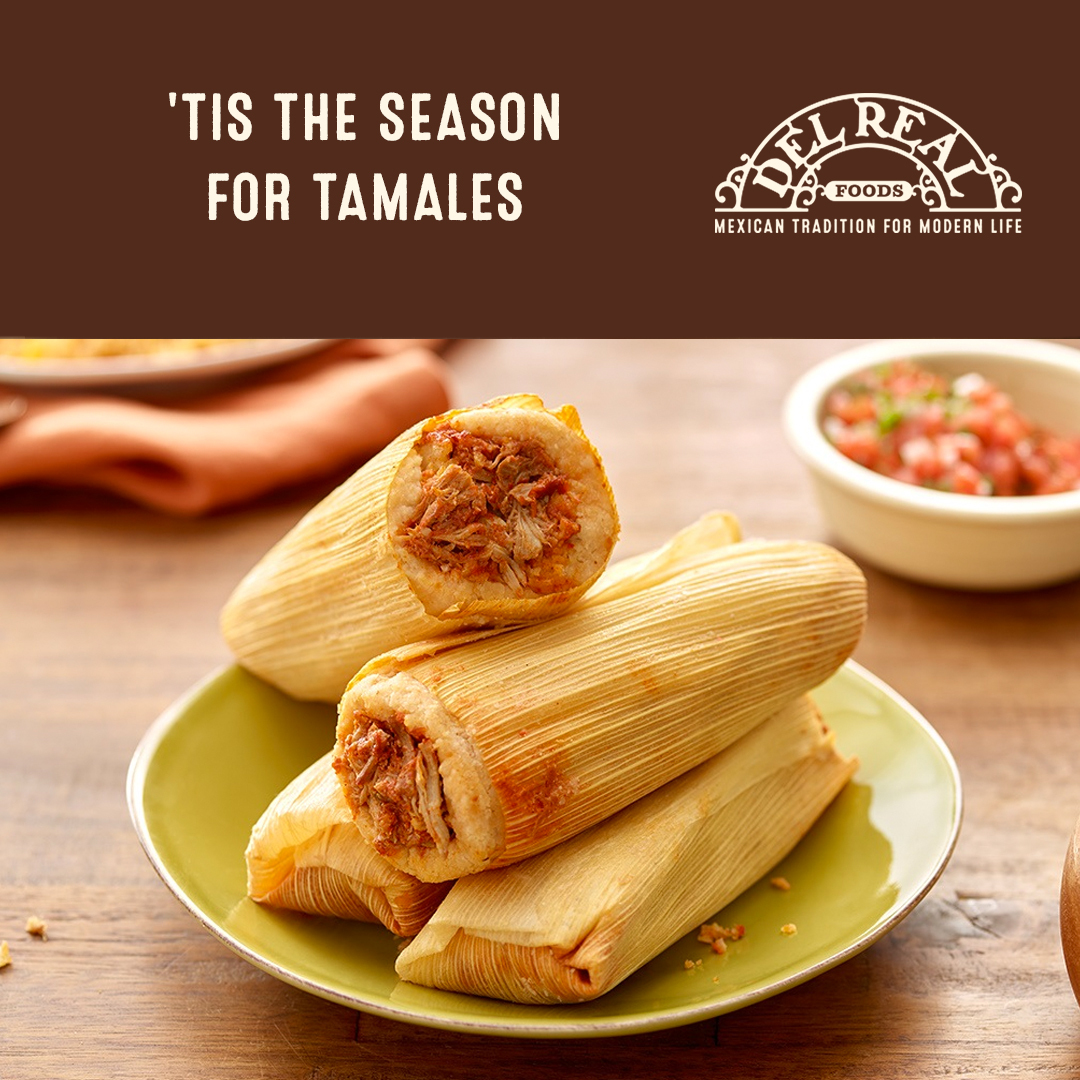 Most people already know that tamales make the perfect dish for the holidays. Some experts believe that tamales were considered sacred as it was the food of the gods. Aztec, Maya, Olmeca , and Tolteca tribes all considered themselves to be people of corn and so tamales played a large part in their rituals and festivals.
The reason so many people eat tamales during the holidays hardly matters. It only matters that your holiday dinner includes this delicious, gluten free food!
Delicious Tamales Don't Have to Take a Lot of Work
Making tamales by hand takes a lot of time. Some families start preparing them two or three days before the holidays.
You can get the same authentic flavor without putting in a lot of work by choosing tamales from Del Real Foods.
Some of the traditional tamales from Del Real Foods include:
• Pork in red sauce tamales (Tamales de Puerco)
• Chicken in green sauce tamales (Tamales de Pollo en Salsa Verde)
• Chicken in red sauce tamales (Tamales de Pollo en Salsa Roja)
• Beef in red sauce tamales (Tamales de Res)
Vegetarians can also enjoy tamales from Del Real Foods by choosing cheese and green chili tamales (Tamales de Queso con Rajas).
Making Del Real Foods' Tamales for the Holidays
Instead of spending hours wrapping and stuffing tamales, people can simply cook Del Real Foods tamales within about 12 minutes.
Preparation only takes:
• Boiling water
• Placing the tamales in a steamer basket
• Steaming the tamales for 8 to 10 minutes
• Letting the steamed tamales cool for 1 to 2 minutes
• Unwrapping the tamales from their corn husks
That's all it takes to enjoy fresh, traditional tamales for the holidays!

Great Side Dishes for Holiday Tamales
Tamales taste best with the right side dishes.
The flavor of tamales mixes perfectly with frijoles rancheros made from pinto beans, smoked pork, jalapeño peppers, cilantro, and tomatoes.
Arroz con vegetales (rice with vegetables) provides complementary flavors from long grain rice cooked in tomato bouillon and combined with corn, carrots, and peas. It's a terrific option for vegetarian and gluten-free holiday guests.
Other side dishes to consider serving during the holidays include:
• Baked beans
• Elote (Mexican grilled corn)
• Black bean soup
• Camarón de gallo (shrimp in pico de gallo)
• Homemade tortillas
The right side dishes create a filling meal that will leave holiday guests happy and content.
Drink Pairings for Christmas Tamales
Several traditional drinks go well with Christmas tamales. The people of Mexico, after all, have been brewing beverages long before Europeans arrived.
Beer-lovers will want to pair their tamales with a Clara Cerveza (clear, light beer) or an Obscura Cerveza (dark beer). Although Claras are more popular in the U.S., Obscuras have a deeper flavor that makes them refreshing and satisfying.
Areas of Mexico with high elevations and low humidity produce brilliant grape crops that turn into delicious wines. Look for red and white wines that come from Baja California, Sonora, La Laguna, and Central Mexico.
Of course, it's hard to beat traditional holiday drinks like Ponche Navideño (warm fruit punch), Atole (warm cornmeal drink), and Champurrado (hot chocolate with cornflour).
Make the holiday season delicious and easy by using the Del Real Foods store locator. With Del Real Foods, families can spend the holidays together instead of working over a hot stove!