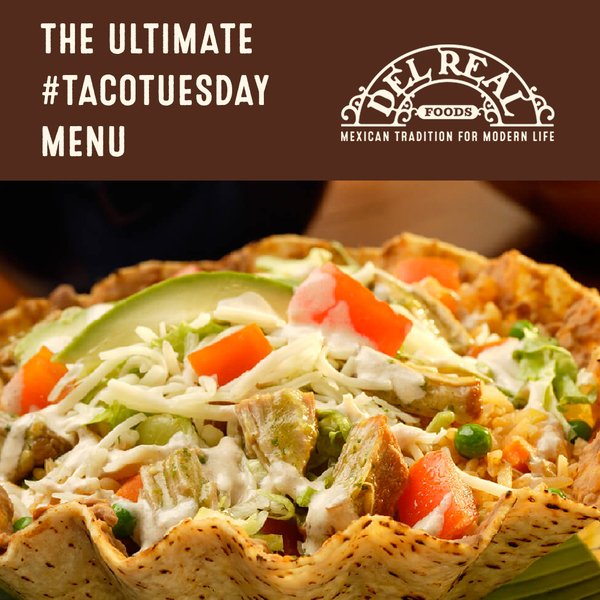 You don't need a reason to have tacos, but #TacoTuesday has turned this simple meal into a pop culture phenomenon. Perfect for breakfast, lunch, or dinner, tacos offer incredible flavor and variety. For your next #TacoTuesday, kick things up and bring in some dishes that will wow your family and friends. You won't have to spend hours in the kitchen to make a great feast–just heat and serve. These quick and easy recipes mean you'll be able to spend quality time with your loved ones enjoying the meal and sipping margaritas. And with such a delicious assortment from which to choose, these dishes will disappear quickly, making clean up a breeze.
Fiesta Tostada Bowl
If you're looking for a way to incorporate pork chile verde into your weekly rotation and make an amazing dish, this has got it all. The meat has been simmered in a zesty tomatillo and chili pepper sauce that gives it a tantalizing flavor. With a mild kick of spice, this is a meal you and your family won't soon forget. Mexican pumpkin seeds add texture and flavor that will make this dish superb! Pairing this with Salsa de Molcajete Roja (Fire Roasted Red Salsa), fresh veggies, and sour cream, you'll have a meal that will make dinnertime out of this world!
Ingredients:
8 fried flour or corn tostada shells

16 oz. Del Real Foods® Pork Chile Verde, heated

1 lb. Del Real Foods® Refried Beans, heated

1 lb. Del Real Foods® Mexican Rice, heated

8 oz. Del Real Foods® Salsa de Molcajete Roja

1 head iceberg lettuce, shredded

1 cup shredded cheddar cheese

8 oz. sour cream

1 cup diced tomatoes

2 ripe avocados, sliced

2 fresh limes, cut into quarters

4 oz. salted pepitas (Mexican pumpkin seeds)
Recipe link: https://buy.delrealfoods.com/recipes/fiesta-tostada-bowl/
Crispy Tacos
On #TacoTuesday or any day, Crispy Tacos are always a classic. They're simple to prepare and impossible to resist. This recipe can make up to 32 tacos, so you've got a large family covered. Using Del Real's shredded beef that has been seasoned with a traditional blend of spices and then cooked until tender, your guests will definitely be coming back for seconds of this delicious #TacoTuesday staple. Top your Crispy Tacos with fresh lettuce, tomatoes, and onions to add texture, and guacamole and sour cream for creaminess and extra flavor. Serve with Mexican rice and you've got a meal that's perfect for the #TacoTuesday celebration!
Ingredients:
32 oz. Del Real Foods® Seasoned Shredded Beef

1 cup diced fresh tomatoes (or one 14.5 oz can diced tomatoes)

16 oz. sour cream

1 lb. Mexican style taco cheese, shredded

Del Real Foods® Salsa de Molcajete Roja

32 taco shells
Recipe link: https://buy.delrealfoods.com/recipes/crispy-tacos/

Shredded Chicken Sopes
Shredded Chicken Sopes includes perfectly cooked and seasoned shredded chicken breast that will add an amazing flavor to the sopes. With a layer of refried beans and a topping of fresh veggies, including avocados, tomatoes, and cabbage, this dish is sure to please everyone. Add some queso fresco and sour cream for a decadent finish that will delight everyone's taste buds. Serve with refreshing margaritas, or with a dark beer or a fruity sangria.
Ingredients:
1 lb. Del Real Foods® Shredded Chicken

1 lb. Del Real Foods® Salsa de Molcajete Verde

1 lb. Del Real Foods® Refried Beans

10 sopes

2 avocados

1 lb. queso fresco

1 small cabbage, shredded

1 tomato

16 oz. sour cream
Recipe link: https://buy.delrealfoods.com/recipes/shredded-chicken-sopes/
Sharing at least one meal together each week can be a great time for family and friends. It's also the perfect time to eat some traditional meals or try a theme, such as #TacoTuesday. Since great memories are often centered around food, make sure to give your family something to enjoy and talk about for days. Use our store locator here to search for these products at a location near you!