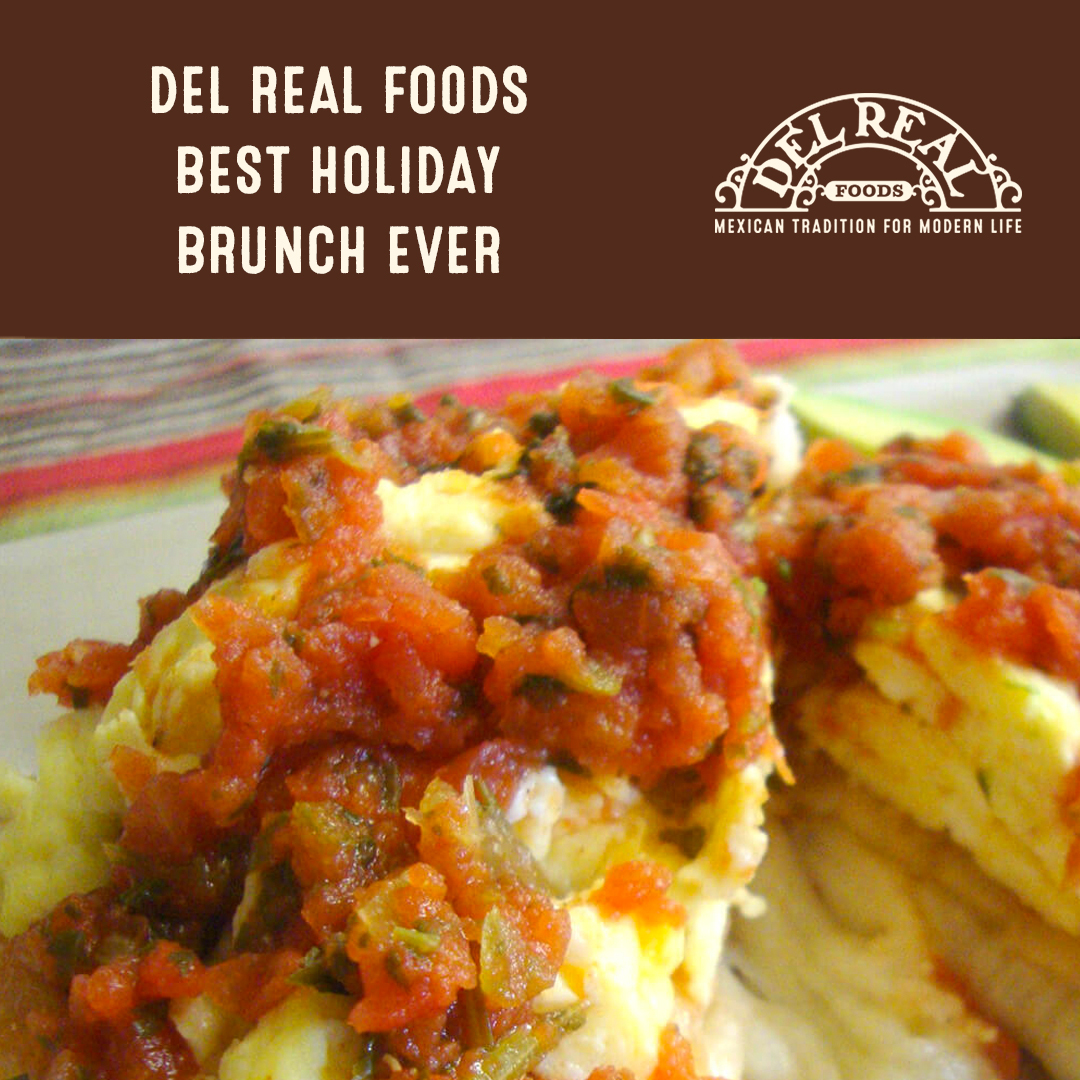 The holidays are a time to reflect and express gratitude, particularly with those you love the most — and what better way to do so than by sharing a memorable meal?
Although each household has their own traditions when it comes to mealtime, nothing is more exciting than trying new things. This holiday season, take your festive brunch menu to new heights, incorporating some or all of these flavorful and unique Mexican-inspired dishes.
Make This Holiday Brunch One to Remember
If you're in-charge of brunch this upcoming holiday season, why not surprise your friends and family with these unforgettable menu items?
If you're looking for a simple, yet unforgettable meal, pupusas with scrambled eggs ticks all the boxes. For added flavor and texture, be sure to pile on some fire-roasted red salsa.
Ingredients
Instructions
Heat Del Real Foods® Pupusas by following the instructions on the package. Once heated, set aside.
Scramble eggs.
Top each pupusa with one scrambled egg and salsa as desired.
Peppers Stuffed with Carnitas, Rice and Beans
Featuring delicious slow-cooked pork and vibrant bell peppers, this meal is simple, yet full of flavor. Serving 3-4 people, simply double the recipe for a larger crowd.
Ingredients
Instructions
Preheat Oven to 350°F
Dice Bell peppers from the top creating an opening to stuff and carve any veins inside leaving the pepper hollow inside. Place on an oven resistant dish. Set aside.
In a large nonstick skillet over medium-high heat 1 tablespoon olive oil
Place Carnitas on skillet and cook until slightly crispy, about 4 minutes
In a large bowl, place Carnitas, 1-pouch rice and 1-pouch refried beans, 1 whole container of Fire Roasted Red Salsa.
Mix all ingredients together.
With the mixture, stuff the Bell Peppers.
Add 3⁄4 cup water to the base of the oven resistant dish.
Cover with aluminum foil. Bake for 40 minutes.
Remove from oven, top stuffed peppers with cheese.
Place back in the oven and bake (uncovered), until cheese is melted and slightly crispy. About 15-20 minutes.
Remove from oven and let the peppers rest for 5 minutes.
Serve and Enjoy!

Nothing says "family" and "tradition" quite like tamales. This recipe takes just ten minutes to prep and ten minutes to cook, leaving you with more valuable time to spend with those you love.
Ingredients
Del Real Foods® Fire Roasted Red Salsa
1 Tablespoon Olive Oil
4 Eggs, beaten
1⁄4 Cup Scallions
1 Tablespoon sour cream (optional)
Instructions
Heat 1 tablespoon olive oil in a large nonstick skillet over medium heat.
Add 1 Del Real Foods® Pork in Red Sauce Tamales, husk removed.
Cut into small pieces and cook until heated through, about 2 minutes.
In a small bowl, beat 4 eggs.
Pour eggs over tamales, mix until cooked.
Sprinkle with 1⁄4 cup scallions.
Season to taste with salt and pepper.
Serve and top with Sour Cream (Optional) and Del Real Foods® Fire Roasted Red Salsa.
Enjoy!
For more delicious ideas, be sure to follow our blog.