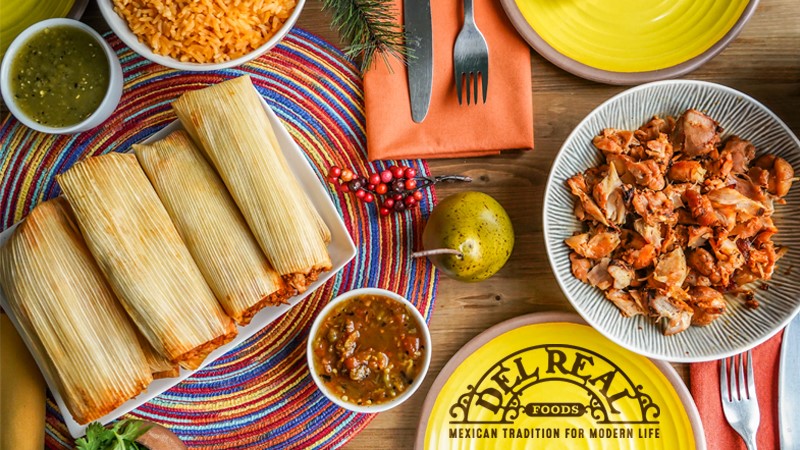 Need to impress the in-laws? Wanting to add some new flavor into this year's Thanksgiving meal? Don't want to toil and stress all day over trying to make a perfect traditional turkey again? Make these non-traditional Thanksgiving meals everyone's new favorite tradition! Get ready for compliments to be coming in all night with these two simple but deliciously flavorful meals.
Keep reading to learn how to make a Thanksgiving tamale pie and a tamale scramble, authentic recipes for spicing up your Thanksgiving, each prepared in less than an hour. These meals are so good and so easy to make, you'll be making them all through the coming year. Also, what's better than a great Thanksgiving meal? The leftovers the next day! Both meals are great dishes to heat up the day after to get you fueled for that long day of Black Friday shopping you have planned.
Del Real Foods has done all the hard work for you. We've made each authentic product with the care, tradition, and love of our Mexican culture convenient for you and your families to love. November 28th is coming soon, with the Spicy Chicken Tamale Pie and Pork Tamale Scramble, Del Real Foods has made the stressful Thanksgiving cooking easy, and even more delicious. Why not add some of these delicious meals into your Thanksgiving dinner this year?
So, make sure you grab your families and friends. Let these meals be a great way to bring everyone together for the holidays and an even better way to impress everyone's taste buds by spicing up your Thanksgiving this year (and the year after that, and after that).
Spicy Chicken Tamale Pie
Perhaps you are familiar with our traditional cheese and green chile tamales or our classic Chipotle Chicken Tinga, but you'll really impress everyone with this flavorful tamale pie. Using our delicious Cheese & Green Chile Tamales combined with our Chipotle Chicken Tinga it is simple to master this extraordinary dish. Making this dish will take you less than an hour! Yes, a Thanksgiving meal that could be done in one hour. Or it could also be great for passing around the table as everyone takes a scoop to go with their typical turkey and stuffing. Also pairs perfectly with a nice bottle of holiday red wine. This spicy dish is a perfect addition to spice up your plate or reheating for leftovers for lunch and dinner the next day.
Ingredients:
1 package Del Real Foods® Chipotle Chicken Tinga
6 Del Real Foods® Cheese & Green Chile Tamales
½ cup bell peppers (red, yellow or green) chopped
3 green onions, chopped
2 tbsp olive oil, divided
8oz tomato sauce
1 clove garlic, minced
1⁄2-1 Chipotle pepper in Adobo Sauce, chopped
See complete recipe and preparation here: https://buy.delrealfoods.com/recipes/spicy-chicken-tamale-pie/
Pork Tamale Scramble
You wake up the day after Thanksgiving, still a little full of the delicious tamale pie you had last night. But you're looking for something different now. Something that will really change up your taste buds from the turkey, potatoes, and bread rolls you also managed to consume. The pork tamale scramble is the exact meal you're looking for. Easy and quick to make, and still absolutely delicious. Cook this up and the aroma in the house will wake up everyone from their food comas, hungry for more of your flavorful recipes. This scramble is great paired with a cup of coffee and will be sure to get you through your long day of Black Friday shopping.
Ingredients:
Del Real Foods® Pork Tamales
Del Real Foods® Fire Roasted Red Salsa
1 tablespoon olive oil
4 eggs, beaten
1⁄4 cup scallions
1 tablespoon sour cream (optional)
Read more about the recipe here:
https://buy.delrealfoods.com/recipes/pork-tamale-scramble/
Use our store locator here to search for these products at a location near you!