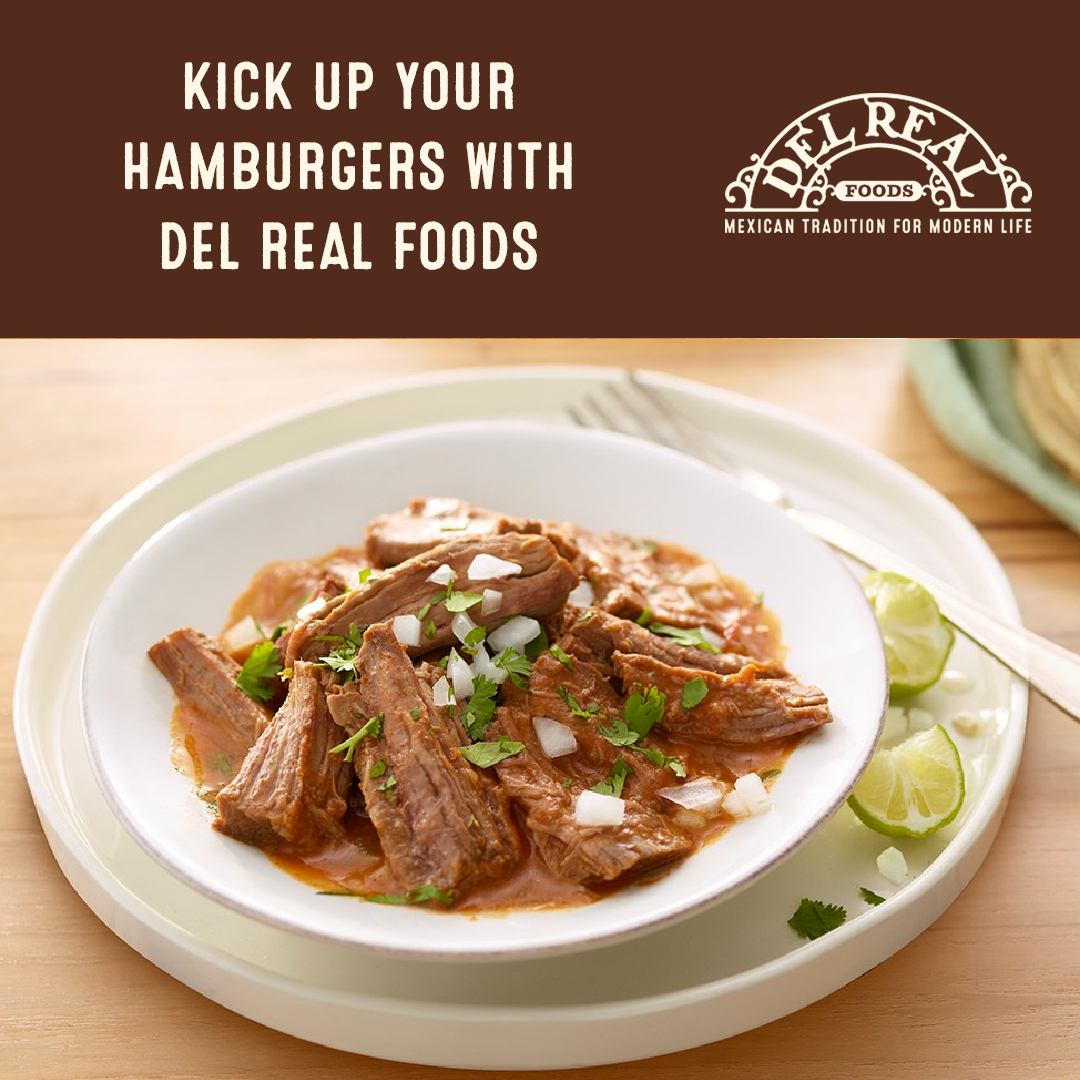 Every day is the perfect day for the perfect hamburger. These perennial favorites are easy to prepare, offer a variety of flavor options to suit every taste, and satisfy both kids and adults. But like most dishes we enjoy regularly, burgers can sometimes get a little…boring. Del Real Foods has the perfect solution to your blah burger blues.
 Tempt your tastebuds by adding some flavor and a little bit of a kick to your hamburgers with Del Real Foods Barbacoa. This tender, slow-cooked beef simmered in a hearty tomato and chili sauce is a great compliment to the traditional hamburger. Use it in place of ground beef, or add it as a topping to your burger. The rich, traditional Mexican flavor will take your burgers and BBQ to a whole new level. This is something that both family and friends can enjoy, and it will give them something delicious and filling to eat at the next get together.


Another delectable topping for your burger is our Salsa de Molcajete Verde. Whether you're sticking with traditional beef, turkey, or veggie patties or opting for Barbacoa instead, this tangy, savory green salsa made from natural ingredients including fire-roasted chilies and tomatillos ups the ante on your burger with fresh flavor and just a bit of spice. Add a couple teaspoons to your hamburger meat prior to grilling, or use it in place of traditional condiments as a topping. 
Salsa de Molcajete Verde also makes an excellent dip for chips or veggies. 
Barbacoa
 Ingredients
 Beef, Water, Crushed Tomatoes in puree (Crushed Tomatoes, Tomato Puree, Salt, Citric Acid, Calcium Chloride), Seasoning (Chili Pepper, Red Pepper, Garlic powder, Salt,
Spices), Apple Cider Vinegar, Salt, Onion
 Learn More: https://buy.delrealfoods.com/products/barbacoa/
Salsa de Molcajete Verde
 Ingredients
 Tomatillo, Fire Roasted Jalapeno Pepper, Salt, Water
Learn More: https://buy.delrealfoods.com/products/salsa-de-molcajete-verde/
 Use our store locator here to search for these products at a location near you!