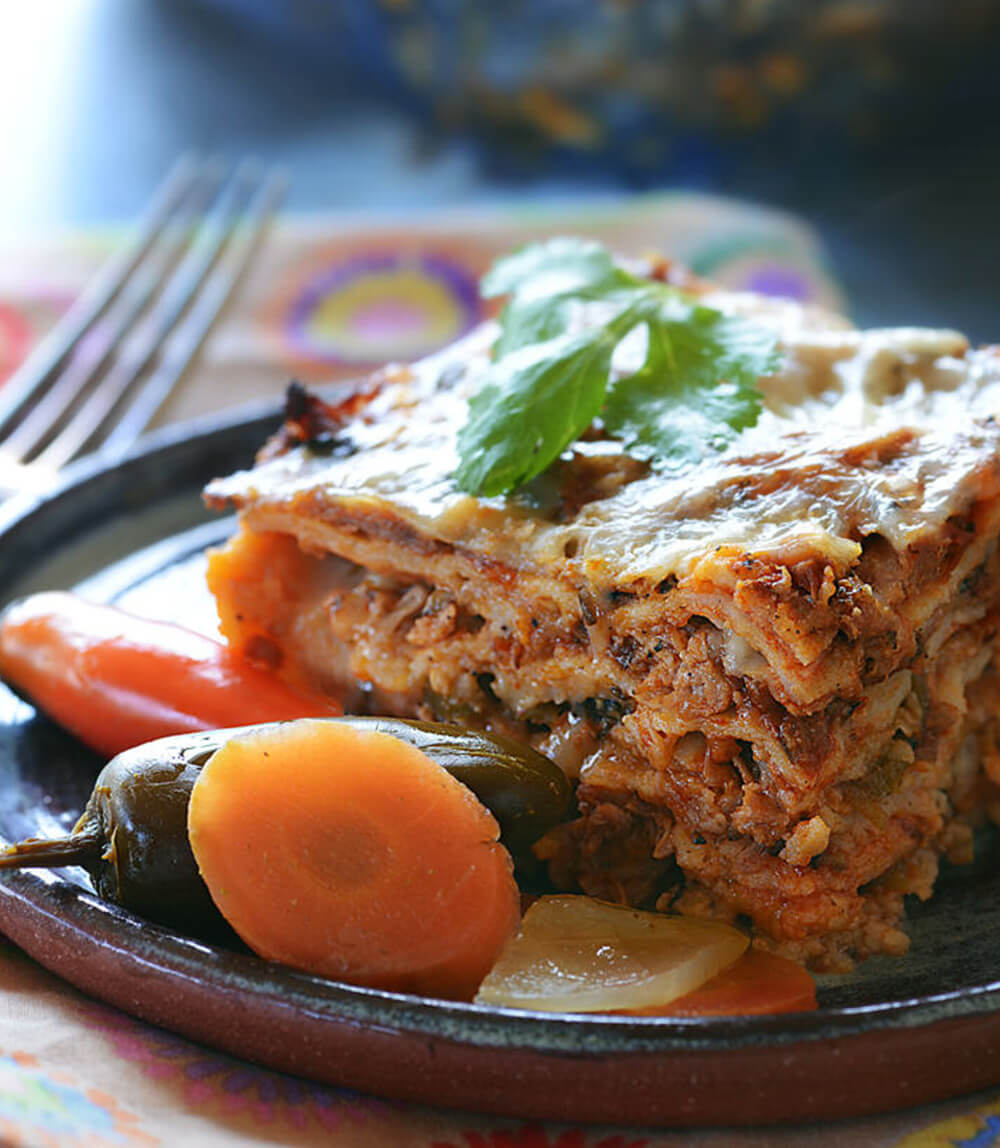 Mexican Lasagna
Carnitas, a type of slow-cooked pork, are a household staple in the Mexican kitchen with its unique and authentic texture and flavor rooted in the traditional cooking methods from Michoacan. Richly seasoned, slow braised and deep-fried, Carnitas make a flavorful and filling main course, but they are also used as ingredients in many other authentic Mexican dishes like tamales, tacos, tortas and burritos. Carnitas are traditionally served accompanied by cilantro, salsa and refried beans.
INGREDIENTS
15 oz. Package Del Real Foods® Carnitas
1 Container Del Real Foods® Salsa de Molcajete Roja
24 oz Can mild Enchilada Sauce
1 Small Can chopped black olives
32 oz Block of Monterey Jack Cheese, Grated
1 Small Bag Corn Tortillas (at least 24)
Instructions
Preheat oven to 350°F. Combine enchilada sauce and chopped olives in a large bowl. One at a time, place tortillas into the sauce, coating both sides generously and then arrange in a single layer in a deep 9″ x 13″ baking pan. Tear tortillas to fit when necessary. Next, place a thin layer of shredded carnitas onto the layer of tortillas. Now, gently spoon the Salsa de Molcajete Roja onto the pork and smooth with fingers. Sprinkle about 1/4 of the cheese and repeat the layering process. You should be able to achieve 4 to 5 layers depending on the depth of your pan. Place dish uncovered on the top shelf of oven and bake for 35-40 minutes until the top begins to turn golden brown. Allow the Mexican Lasagna 10 minutes to rest before cutting into it.
DOWNLOAD PDF