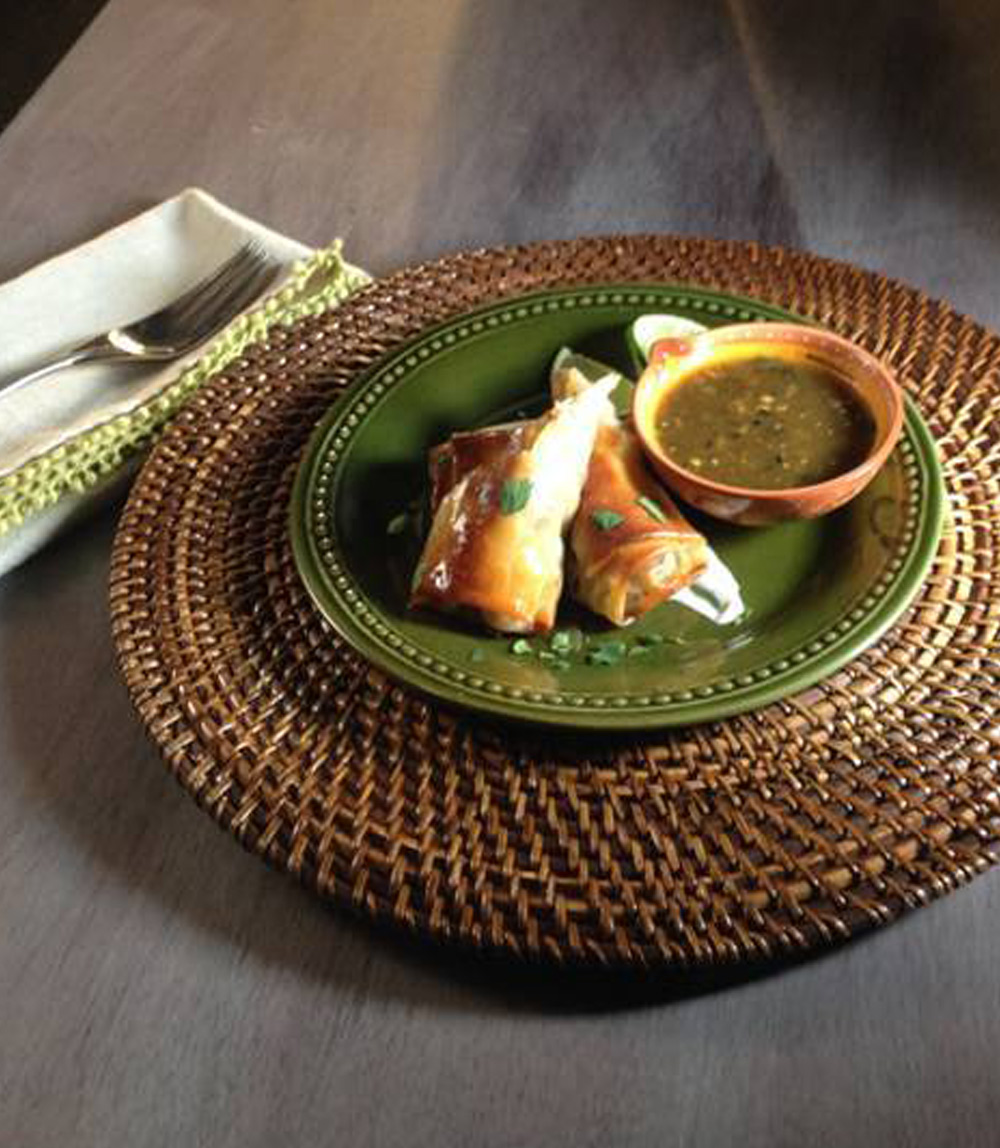 Carnitas Egg Rolls
Carnitas, a type of slow-cooked pork, are a household staple in the Mexican kitchen with its unique and authentic texture and flavor rooted in the traditional cooking methods from Michoacan. Richly seasoned, slow braised and deep-fried, Carnitas make a flavorful and filling main course, but they are also used as ingredients in many other authentic Mexican dishes like tamales, tacos, tortas and burritos. Carnitas are traditionally served accompanied by cilantro, salsa and refried beans.
INGREDIENTS
Egg rolls:
1 package Del Real Foods® Slow-Cooked Pork Carnitas
1 cup diced white or yellow onions
1/2 cup chopped cilantro
Package egg roll wrappers
small bowl of water
vegetable oil for cooking
For the dipping sauce ingredients:
1/2 cup Del Real Foods® Salsa de Molcajete Verde
2 tablespoons of honey
2 tablespoons of rice vinegar
2 teaspoons of black bean sauce (found in a jar in the
Asian foods section)
Sprinkle of smoked paprika
PREPARATION
Preheat oven to 400 degrees.
Take egg roll wrappers out of the fridge and bring to room temperature.
Cook Del Real Foods® Carnitas according to package directions.
Dice onion and chop up the cilantro. Mix prepared Del Real Foods® Carnitas with diced onion and chopped cilantro.
Place one egg roll wrapper on a flat surface, in a diamond shape.
Place 1/4 cup of Del Real Foods® Carnitas filling in the middle of the egg roll wrapper.
Fold the bottom up, and then fold in the sides, then roll upwards to close. Seal with a little water on your fingers. Repeat until you run out of filling.
Place egg rolls on a greased baking sheet and thoroughly spray or coat with vegetable oil.
Bake for 16 to 18 minutes, flipping the egg rolls over after 10 minutes.
For the sauce: whisk all the sauce ingredients together in a small bowl. Serve hot, with dipping sauce, sour cream, and slices of lime.
DOWNLOAD PDF
Related Video Recipe : Carnitas Breakfast Hash