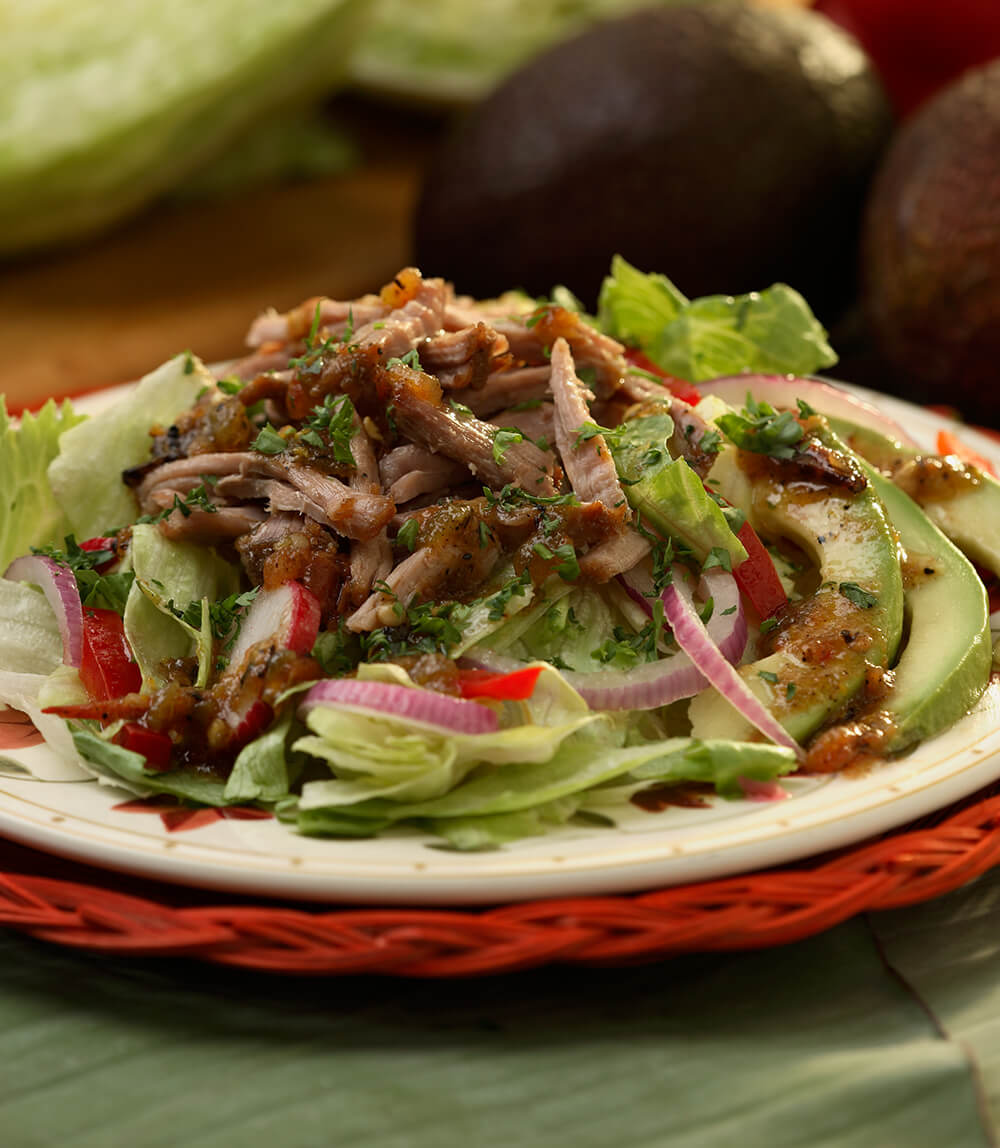 Cancun Carnitas Salad With Citrus Vinaigrette
Carnitas, a type of fried pork, are a household staple in the Mexican  kitchen with its unique and authentic texture and flavor rooted in the traditional cooking methods from Michoacan. Richly seasoned, slow braised and deep-fried, Carnitas make a flavorful and filling main  course, but they are also used as ingredients in many other authentic Mexican dishes like tamales, tacos, tortas and burritos. Carnitas are traditionally served accompanied by cilantro, salsa and refried beans.
INGREDIENTS
15oz Bag Prepared Spring Salad Mix
3 Each: Red Onion And Red Bell Pepper, Sliced Into Wedges
5 Sliced Radishes
2 Medium Ripe Avocados, Peeled And Sliced
15 oz. Package Del Real Foods® Carnitas
18 oz Citrus Vinaigrette (See Recipe Below)
6 Tsp Chopped Cilantro
Instructions
Heat the Del Real Foods® Carnitas by following the instructions on the package. Evenly divide salad mix onto 5 plates. Top each salad with red
onion, bell peppers, radishes and sliced avocado. Evenly divide and  lace Del Real Foods® Carnitas in the center of each salad. Drizzle with desired amount of citrus vinaigrette over entire salad. Garnish with  chopped cilantro and serve immediately.
CITRUS VINAIGRETTE
1 1/2 Cups Del Real Foods® Salsa De Molcajete Roja
1/2 Cup Olive Oil
1/2 Cup Fresh Squeezed Orange Juice
1 Teaspoons Grated Orange Zest
1/4 Teaspoon Each: Salt And Minced Fresh Garlic
In small bowl, whisk Del Real Foods® Salsa De  Molcajete Roja and remaining dressing ingredients together; blend well. Cover and  refrigerate until ready to serve. Whisk dressing well before serving.
DOWNLOAD PDF